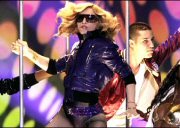 Madonna has been a pop and cultural icon for decades, and has sold an astonishing 300 million albums across the globe, placing her near the very top of the best selling artists of all-time. More than that, she has influenced culture and life across the globe, and is one of the most well known, popular and powerful females of modern times.

Her most recent studio album was the 2008 Hard Candy, although she is said to be in the early recording phases of her next album, which would be her 12th. Recently though, a fun new project was released, Glee: The Music, The Power of Madonna, which featured eight separate tracks that the show used in an episode centered on Madonna music. Madonna had granted the show full rights to all of her songs, which spurred on the episode and then the CD, which would debut at number 1 on the US Billboard chart. There has also been a recent compilation album and live album released by Madonna.

Her next tour is up in the air right now, but there have been some rumors circulating that Madonna will be performing or doing some shows in conjunction with the Glee cast and live shows. She wants to hit the big stage again and perhaps do one more tour before hanging it up for good. So when you see that Madonna tour tickets are available, don't pass up on your opportunity to see her, because it could be your last for the super famous icon.

Ballparks.com through its affiliation with TicketTriangle.com, an online ticket agency offering concert tickets, has been selling tickets to all events in thousands of venues world wide since 2005. To find out more information about a concert, theater, or sporting event please visit one of the links above for more information.
With this partnership we are able to offer you tickets to tens of thousands of events with several million tickets in inventory. We are not affiliated with any venue or arena, and all the tickets listed through Ticket Triangle are tickets listed in a national database by hundreds brokers all over the country. These tickets are being sold on what is called the secondary market. This means the tickets have already been purchased and have been sold to these brokers for subsequent resale at a marked up price at market value. All tickets sold through Ticket Triangle are 100% guaranteed to be authentic.
To order concert tickets online please click a link above. We sell tickets to all types of concerts and other events.
We offer premium tickets to your favorite concert as well as other events throughout the world. We can put you into the seat of your choice.
We have available some of the the hardest to find concert tickets along with seats for other world tour concerts or events. Whether you are looking front row tickets, box seats, backstage passes, a suite, or club seats, we have the largest selection anywhere. Our inventory of our Madonna tickets are fairly cheap, a good bargain, and usually some of the lowest prices available. Much of the inventory we offer are for sold out events and often for a significant disount cmpared to many competitors.
News about Madonna
Madonna and Guy Ritchie waiting for ruling over future of son Ro - (Mar 20, 2016 9:11PM)
Madonna again criticized by Australian fans for stage behav - (Mar 20, 2016 8:58PM)
Madonna again criticised by Australian fans for stage behavi - (Mar 20, 2016 8:01PM)
Madonna Apparently Is In Some Hot Water For Exposing A Fans Breasts On St - (Mar 20, 2016 7:21PM)
Madonna Arrived 2.5 Hours Late In Brisbane Concert; Receives Flak For Exposing A Teenag - (Mar 20, 2016 5:10PM)
Madonna loves ?Game of Thrones? star Gwendoline Christie?s ?orifices?; Fans cheer hilarious excha - (Mar 20, 2016 2:18PM)
How Madonna makes ? then breaks ? young tal - (Mar 20, 2016 11:03AM)
Madonna, Guy Ritchie and son Rocco to hold ?peace talks? in custody battle after Material Girl?s tour e - (Mar 20, 2016 6:09AM)
Madonna?s like a version of her former dynamic self: Me - (Mar 20, 2016 2:11AM)